Brent: Trading Scenarios_05/16/2018
The price for Brent crude oil keeps positive dynamics, continuing growth in the upward channel on the weekly chart, the upper limit of which currently runs near the 79.30 mark (annual highs).
In the current situation, it is necessary to consider only long positions, to enter into which is desirable when rollbacks to the support levels, such as 77.00, 75.60, 74.40.
In case of breakdown of the resistance level at 79.30, the price increase will continue. The most optimistic forecasts for today are an increase in the price of Brent crude oil to $ 100 per barrel.
You can return to consideration of short positions after the breakdown of the support level of 73.40 (EMA200 on the 4-hour chart).
The closest reduction target in this case is the support level of 70.40 (highs of January and March, as well as the bottom line of the rising channel on the weekly chart).
Above support levels of 64.80 (EMA200 on the daily chart), 63.30 (EMA200 on the monthly chart), there is still a long-term bullish trend. Only breakdown of the support level of 58.00 (EMA200 on the weekly chart) can return the price to the global downtrend.
Support levels: 77.00, 75.60, 74.40, 73.40, 72.00, 70.40, 70.00, 66.90, 64.80, 63.30, 58.00
Resistance levels: 78.50, 79.30, 80.00, 90.00, 100.00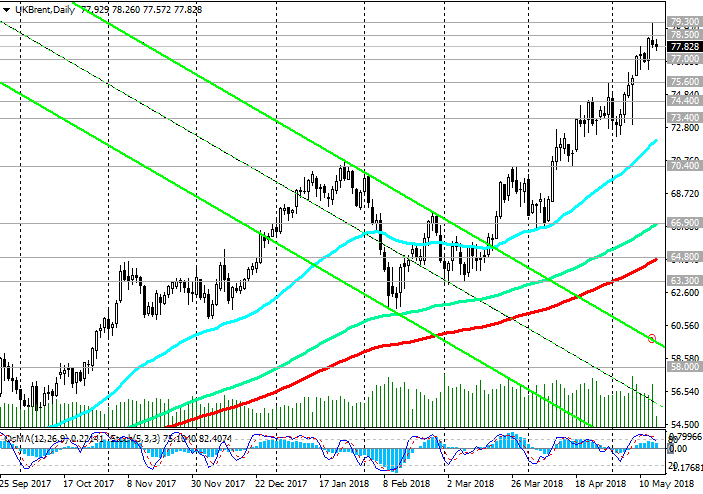 Trading Recommendations
Sell ​​Stop 76.80. Stop-Loss 78.60. Take-Profit 76.00, 75.60, 75.00, 74.40, 73.40
Or Buy Limit 77.00, 75.60, 74.40, 73.40. Stop-Loss 72.80. Take-Profit 78.00, 79.00, 80.00, 90.00, 100.00
Buy Stop 78.60. Stop-Loss 76.80. Take-Profit 79.00, 80.00, 90.00, 100.00