National Emergency Can Give Heightened Volatility on Equities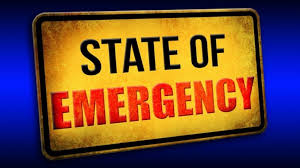 Even when they posted substantial weekly gains, the major U.S. equity markets finished lower after trading sessions on Friday, mostly due to growing concerns over the U.S. government shutdown.
Economic slowdown on China is generating worries on the U.S. government, with data front showing U.S. consumer prices falling for the first time in nine months in December with a steep drop on gasoline prices.
Taking a look to the cash market, the benchmark S&P 500 Index settling at around 2596.26, going down a -0.01%. Blue chip, known as Dow Jones Industrial Average went down 5.97 or -0.03% closing at 23995.95, and last, the tech-based NASDAQ Composite finished at 6971.48, going down for 14.59 or -0.21%.
Volume and volatility remained at subdued levels, making the week more quiet than the previous week. The S&P 500 Index went five sessions without moving more than 1% on any direction, making it the longest quiet streak since early October for the benchmark.
Bargain hunters remain as support for the S&P 500 Index and Dow Jones Industrial Average; both have posted their first three-week winning streak in five months while NASDAQ Composite got support by the aggressive buying of beaten up stocks, including some of the FAANGS.